Activities
Golf
M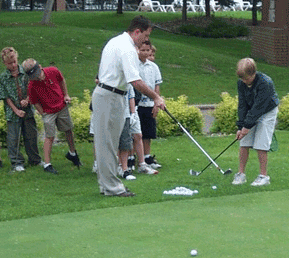 en's Golf League
Men's League runs from May through August. An exciting and competitive league is shaping up this year, with players of all levels joining in the fun! League will be on Tuesday evenings with a 5:45 p.m. shotgun start.
Ladies' Golf League
Ladies League runs from May through the end of August. There are 18 hole and 9 hole groups. League play is on Tuesday with a 8:30 a.m. shotgun start for both divisions. There are new events, weekly and formal "guest days" throughout the season. There is also a Ladies Team League on Wednesday nights. Please contact the Pro Shop for details.
Couples' Golf
Couples can enjoy a relaxing evening of golf on Fridays this summer. Once a month from May to September, there will be a special twilight format for you and another couple to come out and participate in an evening of fun and prizes, followed by a delightful meal. Your skill level is not an issue to join us for these occasions! The staff will have a special format each night to make it a lighthearted event!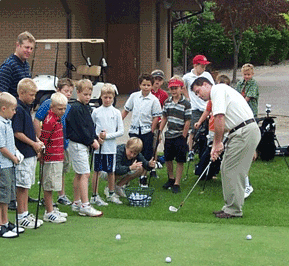 Junior Golf League
For children ages 5 and up, the Golf Shop will once again offer Junior Golf League in June and July. The juniors will be separated by age and/or skill level.

Ages 12 & up
Our goals for this group are to have a good understanding of the rules and etiquette, be able to "play without delay," and have fun! Each session will start with a 15-minute clinic followed by 2 hours of golf.
Ages 8-11
Each week juniors will begin with a 25-minute clinic before 45 minutes of play on the course. The clinic will include one instructional piece along with golf rules and presentation about golf etiquette.
Pee Wee, Ages 5-7
In addition to our other golf camps, the Pee Wee Golf Camp is designed to introduce the game of golf to young inspiring players in a fun and energetic manner. Our mission is to "hook" a child on golf. Creative games are used to teach elements of the game, such as posture and grip. The idea is to make golf FUNdamental for your child!
Kids Activities
Kids' Day - Wednesdays (in the summer)
Kids ages seven and over can be dropped off at the club from 11am-3pm for activities including swimming, tennis, and games. Lunch will be served.
Special Events
Many events are scheduled throughout the year at the Club including fun days, carnivals, crafts, bingo, movie nights, children parties, and many holiday events. Please check the monthly newsletter and calendars for all scheduled activities.